Please contact Terry at stonecir@aol.com or 231-264-9467 for further information or to book a date for your school, library, festival or organization.

PERFORMANCE POETRY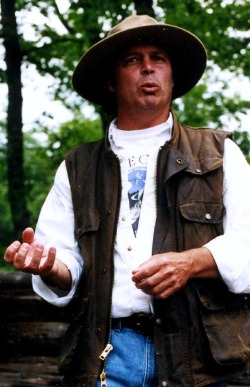 As Michigan's poet-bard, Terry Wooten has a special gift for helping people relate to poetry and enjoy it. Offering more than 100 poets' work from which his audience can select, he recites in jukebox fashion their requests -- whether the audience is 5 or 50.
Terry's oral repertoire of over nine hours includes poems by many well-known poets -- from Chaucer to Whitman -- as well as his own poetry. He is a living anthology of classic literature
,
folklore, children's and contemporary poetry, presented in an entertaining and educational package. The range of
his selections run rich in humor or can reflect the more serious issues of our modern times. His performances are variable, and can be arranged specifically for any group. He has performed to many thousands at K-12 schools, colleges, libraries, conferences and festivals.
---
WRITING WORKSHOPS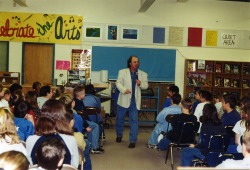 Terry also shares his writing experience as a published poet in a variety of writing workshops (grade 4 to adult).
These workshops contain elements that touch on the
Six Traits of Writing
and
Writing First Hand,
as well as teach benchmarks of the Michigan Curriculum Framework in Language Arts, Social Studies and Science.
~
The
Memory Map
Workshop
combines writing, speaking, listening and artistic components to strengthen literary skills.
~
The
Watershed Critters
Workshop
teaches students to express themselves through a science/ environmental theme.
~
The
Elders
Project
is relevant to current events and turns an oral history interview into an easy to read series of poems with the potential to expand into a play production.
A culminating activity can be a school or community performance presented by the students with Terry.
The Elders Project was awarded the 2013 State History Award in Education from the Michigan Historical Society.
---
THE ELDERS PROJECT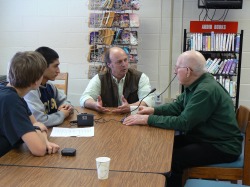 Participants are taught techniques Terry uses in his own work to capture stories important to community histories. Interviews can be turned into narrative poems to preserve and share for generations to come. This is a multiple day workshop.
The Elders Project uses oral history interviews to create poetry based on the stories and lives of elders in our communities. It links history with literature. The project consists of three parts; introducing students to the interview proces
s,
the elder interview itself, then transcribing the recordings and culling the interviews into narrative poetry. From these poems the students can publish a book, or weave together and present a
Spoon River Anthology
style reading/performance of their poems for the school or community. Terry has hosted this project in numerous communities with middle through high school students. The Elk Rapid Area Historical Society has funded The Elders Project for the past three years, with a book expected for publication in late 2010.
Terry's last four books (
Lifelines, Child of War, A Book of Hours
and
Water Under the Bridge
) are examples of poetry written from oral history interviews that he has conducted.
A Book of Hours
is a side project to the Elk Rapids Elders Project, including student interviews/poetry with and illustrated by Michigan artist Betty Beeby. Read more about these books on Terry's book page and on his blog.
---