BOOKS NOW AVAILABLE

Terry's new book
The Stone Circle Poems
is now available on
Amazon.com
in print and on kindle.
PRICE TOTAL
THE STONE CIRCLE POEMS $ 20.00 _______


WATER UNDER THE BRIDGE $ 18.00 _______
From the Elk Rapids Elders Project
A BOOK OF HOURS $13.00 _______
CHILD OF WAR out of print
LIFELINES out of print
SHIPPING _________
TOTAL _________
Please include $4.00 for first book and $3.00 more for each additional book for shipping. Make checks payable to Terry Wooten.
NAME________________________________________________________
ADDRESS_____________________________________________________
CITY/STATE/ZIP______________________________________________
EMAIL/PHONE________________________________________________
A BOOK OF HOURS by Terry Wooten & Betty Beeby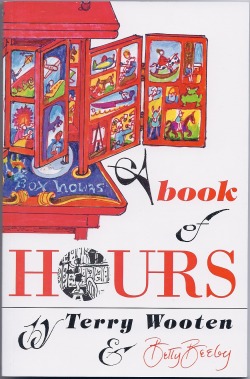 An Oral History Poem Biography of and illustrated by Michigan Artist Betty Beeby.
One of the tragedies of modern society is that we've separated our elders from our youth. For thousands and thousands of years kids listening to elders is where our histories and "herstories" came from. A Book of Hours grew out of a larger project. In the fall of 2007 I made a proposal to the Elk Rapids Area Historical Society. We would select a group of eight elders each year from the community, folks in their eighties, and invite them to be interviewed and tape recorded by 7th and 8th graders. I would teach the kids to transcribe favorite parts of the interviews, and write free verse poems using the elders' words. I would transcribe the rest of the tapes, and write poems around the kids' work. A book of historical poems was the final objective. The Elders' Project would take place in Cherryland Middle School after regular class hours. I had already conducted this workshop in another community for two years. Dan LeBlond - President of the Historical Society, and Glenn Neumann - past President, accepted my proposal. They recruited the elders. The Elk Rapids Area Historical Society sponsored The Elders' Project, as well as purchasing tape recorders and other supplies.
First I visited the school and recruited students. The student part of the project took seven days. The first day I taught the kids how to use the tape recorders. We brainstormed about questions to ask, and I explained what we were aiming for.
The second day, January 22, 2008, during a snowstorm, the elders arrived. This can be a shy, awkward time. After short group introductions, the elders and students paired up. The getting to know each other began. The third day students transcribed favorite sections of the tapes. On the fourth day the elders returned for another interview. The rest of my time with students was spent writing and rewriting from prose into poetry form.
The second interview is my favorite part of the workshop. Initial shyness disappears, and friendships begin to grow between individuals of very different subcultures. The exchange that often takes place between the kids and elders is priceless. Two young girls, Ashlee Marshall and Gabrielle Gaultiere, paired up with Betty Beeby for the first interview. Gabrielle worked with Betty alone for the second session. Each girl wrote two poems. Their names are listed with their works.
Betty Beeby is a well known artist, author and illustrator. I saved her interviews to transcribe last. I figured after writing for ten months I would be tired, and she would be colorful. I was right. Because of her artistic and eccentric temperament, Betty's interviews stood out from the rest. I suggested to Dan LeBlond that we do a separate book of Betty's poems, and asked her to illustrate them. Betty Beeby accepted.
About the time I started working on Betty's poems, she won the 2008 State History Award for Distinguished Volunteer Service for her Art and contributions to Michigan History. It was great timing.
To round out Betty's story, I did three more interviews. Betty and I have known each other casually for over twenty years, but in the course of three interviews and conversations we became good friends. A Book Of Hours, just like the title says, is a true mixing of our Arts. Being allowed into Betty's life is a lot like walking through her house. She lives in a gallery of art. There's not a space that isn't filled with creativity. I feel privileged to have gotten to know her enough to write these poems. I think the two students, Ashlee Marshall and Gabrielle Gaultiere feel the same way.
Terry Wooten
I had to ride a streetcar
running on tracks
an hour to get to Cass
Technical High School
in downtown Detroit.
The building had an airplane on one floor,
and Charles Lindbergh's mother
taught there.
In Art class I found the teacher I needed.
Mary Davis would come back after school
and work with us.
She had all these expensive art books
she loaned us.
The cost was out of her own pocket.
Two boys and I,
Francis and Bernard,
always worked together.
Miss Davis called us, "The Three Musketeers."
I didn't go anywhere without a sketchbook.
On the streetcar
I had all these sitting people
as my models.
The people riding were still.
I could practice how they sat,
how they looked,
how they stood,
and what they did with their hands.
I had an hour going in
and an hour going home,
so I didn't have to pay
to get models.
They wonder why artists
did so many self portraits.
Rembrandt did about fifteen.
It's cheap.
You just look in a mirror.
~~~
The United Nations Armed Forces Club
asked if I would
like to do a mural
in the recreation room.
I had one wall,
and was a nobody from Michigan.
Very famous artists
were doing the other walls.
Rube Goldberg painted
his wild, crazy contraptions.
Peter Arno painted a comical fireman
on a ladder.
My mural was dancers.
I used to go to the corner tavern
to draw people dancing.
I'd
watch the combinations of people
that would hook up
and how their bodies moved to the music.
A little guy or a big woman...
one woman swiveling her arms
like they were on a hinge.
The club liked my mural,
and invited me to a tea dance
on Park Avenue,
to socialize with some soldiers.
This handsome young man came in.
When people found out
he was from Sparta, Michigan
they introduced us.
Jim Addison Beeby and I danced.
It was love at first sight.
~~~
My kids also tease me about my cooking,
now that they're older.
My mother was a good cook.
For one of my first big company dinners
I made pear salads
that were faces of the people
going to sit at the table.
I had carrots for the red-headed gal,
and spent a lot of time on that.
They may not have gotten any meat.
~~~
I've always been fascinated
by motion.
Galileo said, "To be ignorant of motion
is to be ignorant of nature."
Every time I do a painting of cornstalks
it sells for some reason.
Cornstalks are elegant
like dancers.
There's this energy.
Why aren't we harnessing that energy,
that motion.
I've been doing a painting of water
for two years.
I put in some electrical symbols.
Now I have to take them out.
They didn't look right.
I'd say to the water,
"Stand still so I can sketch you."
Water is
the hardest motion to catch.
Dancing is much easier.
I have a bank of sweet peas
climbing on bedsprings out back.
When the pods turn dark-brown and crisp,
and the sun comes out,
if you stand and watch...
they get just warm enough
and go into a spiral
and shoot the peas far and wide.
It's incredible.
If you hold a sweet pea pod
in your hand till it warms up,
it'll go pop, pop, pop, pop!
There's something magical about snow.
You get shadows.
There was a downed tree in the woods
covered with snow.
It looked just like Don Quixote
riding on his horse.
You have to have a good imagination.
A famous poet, Wallace Stevens, said;
"Imagination is the necessary angel of the earth."
Imagination solves problems.
It's our imaginations
that are going to save us.
---
When the Bear Came Back: The Whole Story OUT OF PRINT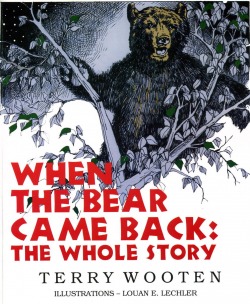 Illustrated by Louan Lechler

PART I

When the Bear came back
Park Lake was a ghost town,
but people still lived there
in new houses built
around old crumbling foundations
jutting out of the ground,
especially down by the railroad tracks.
Grandpa said bears hid from lumberjacks
who were like a forest fire
turning trees into logs and sawdust.

Wild animals ran away
from this human flame.
Big bears with bodies of night,
and shy wolves and cougars
disappeared like shadows
in the morning light.
They moved deep into Dead Stream Swamp
northeast of the ancient Indian Mounds
where Big Foot still lives.
Lumberjacks stayed away from that place.................

PART II

Charlie Fisher saw the Bear
run across the gravel road
in front of his car lights.
The beast woke up the Baughns
in the middle of the night
banging around in their trash cans.
I had a big imagination
and got to thinking this Bear
was the size of a Tyrannosaurus Rex.

Charlie and Lula Fisher lived
on a small farm
on the south edge of Park Lake.
They didn't have any kids,
just a little lamb tombstone
in the cemetery.
Their house was a boring place
to visit if you were a kid.
You could not do this
and you could not do that.
One dark blue summer night
while Mom and Dad were visiting
with Charlie and Lula,
and my sisters were sitting quiet…
I snuck outside to watch
for this Tyrannosaurus Rex sized Bear.................


---
Child of War OUT OF PRINT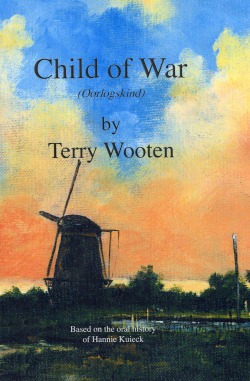 Johanna A. Prins was born in Holland in November 1939, seven and a half weeks after the beginning of World War II. Later in May 1940, Hitler told the Dutch and Belgians not to worry about a German invasion. The next day he attacked. Thousands of Dutch refugees were machine-gunned by Luftwaffe fighter planes. Rotterdam surrendered, but the bombing didn't stop. Five days later Holland was under Nazi control.
Hannie, as her parents called her, became aware of life under this brutal occupation. Her little girl recollections of her first five years are remarkable. Our earliest memories are usually of something special or traumatic, which might help to explain this. Also, while I was interviewing Hannie for these poems, she was translating her father's memoirs for me. His writings helped wake-up some of the old, bad dreams. Child of War was composed from interviews conducted with Hannie (Prins) Kuick in January through March of 2005. The poems were arranged from her actual words.

Like Dolls
I was about five.
After three days
of rain and fog,
I saw the second wave
of parachuters floating down
like mushrooms out of the sky…
thousands and thousands of them
up in the air
and being shot.

It wasn't even a battle
because they didn't even have their guns ready.
I saw them dead.
They looked like dolls that had fallen down
lying in a field.


In the Wind
I figured out
a few years ago
why I'm terrified of bed sheets
drying in the wind.

There was a small insane asylum
close by
with thirty or forty people
wearing white nightgowns.

The battle was going on and they got out
and were running through the woods.
It was nighttime.
The bombings were like fireworks.
You could hear big guns
all around.

Mams was going nuts.
The scary people
would come to the window
and peek in
and pound on the glass.

They wanted to come in,
because it was terrible out there
like a horror movie.
These poor people
didn't know where to go
or where to run.

When I see white sheets
blowing…
I just get sickly.




---
Lifelines: A WWII Story of Survival and Love OUT OF PRINT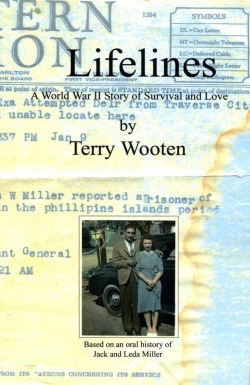 Lifelines: A WWII Story of Survival and Love by Terry Wooten, is a series of 85 narrative poems based on oral history interviews with Jack Miller, a Japanese POW and Bataan Death March survivor. At the age of 20 and married for just four months, this young soldier was sent to the Philippines shortly before Pearl Harbor was bombed. He did not return for four years while his bride waited at home. Lifelines tells this couples' story, crafted from their own words.
Leda
The Army Air Corps sent Jack
to the Philippines
two weeks before Pearl Harbor was bombed.
A young wife,
I stared at my wedding ring
for three and a half years
wondering if I was really married.

I was pretty lonesome,
but I figured
what Jack was experiencing
was a lot rougher,
so I could go through this.

Jack's mother was disappointed
that I wasn't pregnant.
If something had happened to him
she wouldn't have another little Jack.

I used to dream
what was happening to him
every night.
Once I dreamed I was in Corregidor
and saw his initials scratched in a wall,
but he wasn't there.

I didn't know where
he was until
I was notified by the War Department
that he was a prisoner
two years after he was captured.

Jack
We walked to a highway
where lost American troops
were massing in retreat.
Nobody knew
what was happening.
Us lonesome soldiers walked all night
into the next morning.
There we found out
we'd been surrendered.

The Japanese made us throw our rifles down
in a pile.
They sat us in a hot field
for half a day
with enemy planes flying over.

You can't imagine
the isolation and hopelessness
of being so far from home,
thousands and thousands of miles
and out of control
of your own life
under the power
of the rising New Order
as the Japanese called themselves.

There's no feeling I've ever had
that compares.
The whole bottom of my life
seemed to drop out.
What am I doing here?
How did I end up here?
Then they herded us out.
I don't think of myself as a hero.
Don't know what I did
that would've made me a hero.

Jack
To say I feel I was part of history…
the way I figure,
if somebody brings the Bataan March up,
I can say I was there
and that's about it.

Everybody is a part
of some kind of history
somewhere along the line
because of where
you happen to be.

I'm just happy that I made it back
when so many did not.

As for the fact
that I was there,
I was sent there.
I didn't volunteer.

I might not
have made it into the military,
and got run over by a car.



---